How Do I Care For My Toys?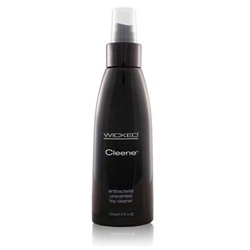 When you find your favorite gay sex toy you want it to last, and with proper care and maintenance it can.
Before using your sex toy, carefully inspect it for any tears or defects. If it is an insertable toy, make sure you use a compatible lubricant.
Cleaning is probably the single most important thing when it comes to care, so it's essential to do so immediately after each and every use.
To clean your sex toy, use warm water and an antibacterial soap. Thoroughly wipe and rinse, making sure if your toy uses batteries to avoid getting that area wet. Another option is to use a sex toy cleaner. Rubbing alcohol can also be used to cleanse plastic sex toys.
If your sex toy is made of Cyberskin, always make sure to use talcum powder after cleaning to maintain your toy's unique feel.
Once you are done washing your toy, pat dry with a clean soft cloth. Then wrap it in a dry cloth and store it in a dry, cool place. If your toy is battery operated, remove the batteries before storing if you don't plan on using it in the following week. Batteries can corrode and ruin your toy, or your toy can accidentally turn on and not be ready when you are. It's also important to always use the right battery for your toy.
Changing your batteries is simple and normally is achieved by removing the panel on the controller or by unscrewing the base. Once your gay sex toys are clean, dry and battery free it's time to store them. It's recommended that they be wrapped individually in either a lint free material such as linen, or a velvet storage bag. Many materials do not mix well with each other, and can actually end up destroying or damaging your toy. This is especially true with silicone. Never store a silicone toy with another silicone toy. The result will be a slow disintagration and you'll end up with a misshapen and unusable toy.
With just a little bit of cleaning, maintenance and proper care, your favorite sex toys will be around for years to come.
| | |
| --- | --- |
| | |