Hand Job Stroker
Item #2245

Product Description
Try This With Your Next XXX Video!
Slip your lubed erection inside the soft 51/2" silicone sleeve and feel over 100 sensi-nubs work you to ecstasy! Watch your rigid member glide inside the clear sleeve ... it stretches TEN TIMES to fit anyone! Dildo is NOT included.
more...
Product Details
Best Used For:
Masturbation
Brand:
California Exotics
Function:
Masturbation, Stretchy
Extra savings when you buy this item and more!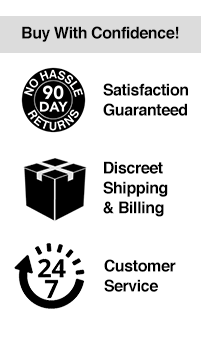 Product Reviews
Most Helpful
Most Recent
Highest Rated
Lowest Rated
Unexpected thriller
Submitted 7/23/2008
7/23/2008
I bought this thinking well if it will give me 1/4 what it's advertising. Stretchable, easy to clean. put some lube on the inside and some on your dong, stretch it over your dong and start to jack! The nubs feel like hundreds of little fingers against your shaft... As you slip it up, over and back down off your glans the intensity of those little nubs is increased 10 fold. Simple easy pleasure device, Who'd have thought so ?
Oh yeah!
Submitted 5/6/2005
5/6/2005
Excellent! Will keep you cumming back for more!
Great!
Submitted 3/12/2010
3/12/2010
This Masturbator is so great I tryed it when I got it an wow it was so mutch fun.
Mindblowing
Submitted 5/5/2015
5/5/2015
A little lube and this stroker will give you a mindblowing experience. I thought it would just be fun to have this. It turned out to be an immensely charged experience. I highly recommend it
Verified Purchase
I didn't know if I sould have bought this product.
Submitted 8/16/2017
8/16/2017
I have a hard time getting it on even with lube. Also to have something like that on my junk can't replace the pleasure I get from my hand.
Verified Purchase
Ok for the price
Submitted 9/10/2017
9/10/2017
I didn't find this too exciting, but my husband likes it.
Verified Purchase
Not What I Expected
Submitted 12/22/2017
12/22/2017
When I saw the description for this, it reminded me of another toy I used to own. However, when I received it, I was disappointed by how flimsy it is. The size is OK and the textured lining feels good, but it is very hard to grasp and move (especially after you've lubed yourself up). The thickness of the material isn't enough to provide enough rigidity for smooth stroking motions. I guess it could be turned inside out and used as a shaft sleeve or something. Think I'll look for something else.
Verified Purchase
Enjoyable toy
Submitted 9/27/2017
9/27/2017
Enhances the masturbatory experience threefold. Really enjoy this product!
Handy
Submitted 12/2/2017
12/2/2017
I love this toy! I use it! 2-3 times a day. Good when you got no one to do! Very good striker.
Verified Purchase
Hard to hold
Submitted 12/5/2017
12/5/2017
It feels good and adding more lube is easy with the open top, but if any lube got on the outside I'd lose any grip making it useless