Colt Multi-Speed Power Bullet
Colt Multi-Speed Power Bullet
Item #2284

Product Description
Go Ahead, Lose Control!
The COLT Power Pack Bullet is both ergonomic and economic! Grab the EZ grip power pack in one hand and pop the bullet in your soon-to-be-happy hole. While you control the multi-speed vibration through the wire remote, you'll LOSE CONTROL of that orgasm you've been keeping at bay. Uses 2 AA batteries (not included).
more...
Product Details
Best Used For:
Anal Sex Play
Function:
Anal stimulator, Remote control, Vibrates
Extra savings when you buy this item and more!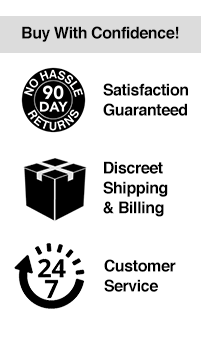 Product Reviews
Most Helpful
Most Recent
Highest Rated
Lowest Rated
Anal Happiness!
Submitted 9/27/2007
9/27/2007
EXCELLENT product! Connect it to a prostrate stimulater and you will experience the climax of a lifetime! Also GREAT for anal intercourse...it stimulates your partner's penis and your prostate at the same time...bottoms..this is a MUST!
Totally Sweet
Submitted 12/2/2007
12/2/2007
I got this Colt vibrating egg and really love it! I can't tell you how it enhances my orgasm. I combine it with a tight cock ring and blast away! Highly recommended!
Packs a PUNCH
Submitted 11/13/2007
11/13/2007
EXCELLENT VALUE! This is better than lots of more expensive toys. I have 2 and use them both at the same time, but set at different speeds. The orgasms are so intense I'm sure I wake the neighbors...but they can get their own damn toys.
Like a charm!
Submitted 10/15/2010
10/15/2010
This item is excellent! This was my first actual sex toy, and it was a great way to start this new world. I was little tight for getting it in, but once it got started, my I finished with a bang! For the price of this item, it is definitely worth buying! I recommend it!
dynamite comes in small in a small package!!!
Submitted 7/24/2010
7/24/2010
This colt bullet is the very best anal stimulator i have.My partner and i use ours together.We bring ourselves to explosive orgasms simultaneously.
Best bullet I own!
Submitted 12/30/2011
12/30/2011
Colt has the best toys that Ive owned, and I own A LOT! VERY powerful vibration made my tiny penis explode in less than 1 min. after I put it in my butt. I have 4 bullets and this is by far the most powerful
Boyfriend and I have so much fun with this!
Submitted 2/4/2018
2/4/2018
My boyfriend and I love this thing! I was really surprised at how powerful the vibration is. I use it in the underside of the head when I'm alone and hold it in my hand when I'm giving the boyfriend a handy. I also love sticking it in him while I give him head. It's always a huge orgasm. I've even used it alone to stimulate my prostate for a hands free orgasm. It's a multipurpose toy that's worth every penny.
Love it!!
Submitted 7/21/2014
7/21/2014
This bullet is great! Love putting this in my hole when my boyfriend and i are f***ing.
Awesome
Submitted 2/14/2015
2/14/2015
Great addition to toy collection
Verified Purchase
Amazing product!
Submitted 12/27/2017
12/27/2017
The colt multi -speed power bullet is a wonderful tool to enhance your experience. I love the ability to inverse and decrease speed with ease. And it packs a powerful punch! Definitely worth it, especially for the low price!