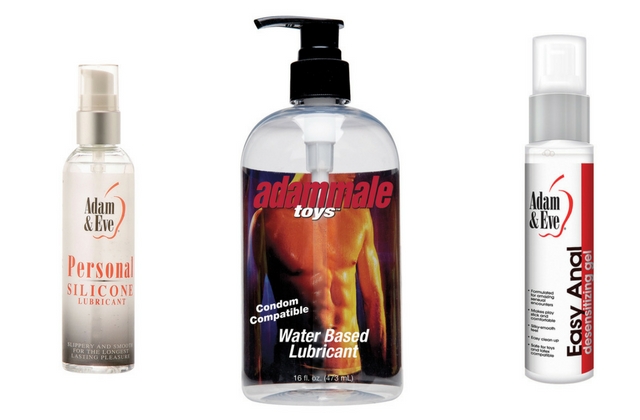 Types of Personal Lubricant
Lubrication can be a great way to make sex more pleasurable for you and your partner. But there are tons of different kinds of lube and we know it can be overwhelming. That's why we created this guide to help you pick the right lube for you.
Water-Based Lubricants
Water-Based lubes are the most common. As the name suggests they are water-based which makes them very versatile and easy to clean up. Most water-based lubes are safe to use with condoms and sex toys including silicone sex toys. One drawback of water-based lubes is that they are absorbed quicker than other lubes.
Our favorite water-based lube is AdamMale Water Based Lubricant
Why do we love it? It's specifically made for anal penetration, is condom safe and long lasting!
Silicone-Based Lubricants
Silicone-based lubricants are the most water-proof lubes available. They can be used underwater or in the shower for wet and wild fun. They are also longer lasting than water-based lube so you won't need as much. Silicone-based lubes won't be absorbed by the body and are recommended for anal sex.
Silicone-based lubes are NOT safe to use with silicone based toys! The lube can eat away at the silicone of the toy and ruin it.
We recommend A & E Personal Silicone Lubricant. It's long lasting for fewer interruptions and compatible with latex condoms!
Anal Lubricants
Anal lubes are formulated to be thicker and longer lasting. Some anal lubes contain ingredients that numb your hole to make anal sex easier and more pleasurable.
Our favorite is Easy Anal Desensitizer fromAdam and Eve. We love it because it uses Benzocaine to numb the rectum and anus to make receiving a more pleasurable experience. Simply rub a small amount to the rectal area and allow a few minutes to take effect. This is a lube and can be used on its own or combine with another lubricant for added slickness.
Flavored Lubricants
Flavored lubes makes sexual acts more tasty. They can make giving oral more pleasurable, especially when combined with flavored condoms.
We love Adam & Eve Flavored Lubricants.They come in strawberry, cherry, and watermelon. Personally, my favorite is the watermelon!