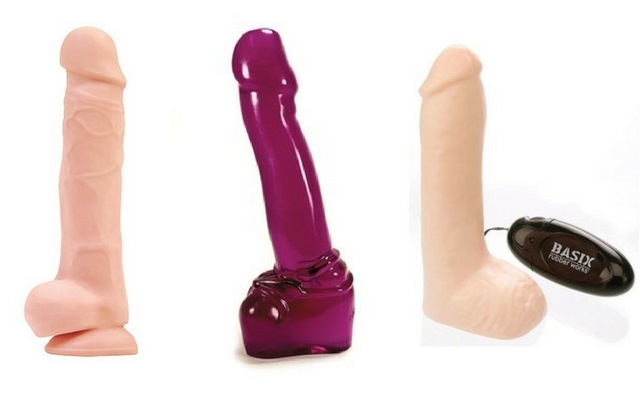 Dildos are sex toys that are designed for penetration. This guide focuses on anal dildos. There are tons of different types of dildos that create different sensations. Some are smooth and tapered for easy insertion, others have ridges or are curved for extra stimulation. Whatever anal stimulation you desire you can find it in one of the dildos from AdamMale. Look through this guide and pick the one that's best for you.
How to Find the Best Dildo For You
Jelly Dildos- Jelly dildos are a balance of rigid and soft. They are ideal for those that are new to dildos and are looking for something to ease their way in.
Glass Dildos- Glass dildos are firm and can be heated and cooled for extra stimulation. With proper care a glass dildo can last a lifetime. They often have ridges on the shaft for extra fun.
Realistic Dildos- Realistic dildos are as close and you can get to the real thing, but be careful it might make your partner jealous.
Double Dildos- Double dildos are easy to hold on to and long for deeper penetration. Ride it with our partner for the even more thrills.
Clone-a-Willy Dildos- Create a dildo of your penis or his!
Giant Dildos- These dildos are big enough to fill any size queen! Be sure to use plenty of lube with these dildos.
Vibrating Dildos- Comes in a variety of materials and increases stimulation!
What to Consider
Now that you know about the basic types but there are still a few things you still need to know before you start swiping.
Pick a Material First
The material of your toy affects how long it will last, the type of stimulation, and how you should care for it. If you're interested in something softer and easier to insert try a silicone, TPE or TPR dildo. Glass and metal will last much longer and are much more firm.
Pick a Size
Let's be honest size does matter. Be sure that you can take the dildo you're planning on buying but also make sure it's big enough to satisfy your inner size queen.
Using Your New Dildo
Yay! It's finally time to take your new dildo for a spin. Here's what you need to know before you go to town.
Prep
The first thing you should do is wash your dildo (see below for cleaning instructions). Once you've cleaned and dried your toy, find a place where you won't be interrupted so you can get the most out of your new dildo. The last thing you need to do before you start is apply plenty of water-based lube!
GO!
Start slow to break in your new toy. Start by teasing your hole with some rimming action. Then, insert just the tip. After you've gotten used to your new toy you can pick up the pace and really enjoy it!
Cleaning and Storing Your Dildos
Clean your toy before and after each use
Cleaning sex toys isn't a chore but it is important. The simplest way to clean your toy is spraying it with antibacterial sex toy cleaner then wiping it down with a lint free towel.
Storing your dildo
DON'T LET YOUR DILDOS TOUCH! Some materials don't play nicely with each other. To ensure your dildos stay in good condition store them in their own storage bag.
You official know everything you need to know before you buy a dildo. Click here to shop dildos, happy shopping!