Gay Sex Toys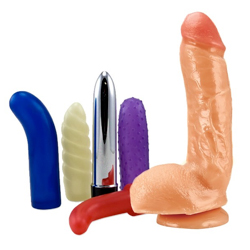 Gay sex toys can be an important part of a healthy, happy sex life. Whether for solo use or with a partner, toys are great ways to add to your sexual excitement and explore your fantasies. From the beginner to the carnal connoisseur, AdamMale has something for everyone.
Gay sex toys come in a variety of shapes and sizes, and perform an array of duties and functions. They can be as simple as a strand of anal beads, or as complex as a multi-function stimulator.
When it comes to your pleasure and what you are looking for the choices for gay sex toys are endless. Do you want something that stimulates the prostate? Are you looking for a penis enhancer? Or do you want a toy for anal play? Choosing the right toy is an important decision. That's why AdamMale has put together a comprehensive guide to help you learn more about the different type of gay sex toys we offer so you can be confident, and knowledgeable, about your pleasure.