Using An Anal Toy For The First Time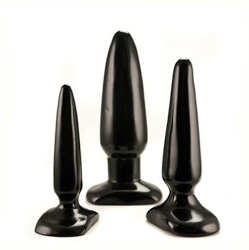 If you've never used an anal sex toy before you're in for a treat. Anal sex toys can open up a whole new world of pleasure, whether you are using it for solo exploration or sharing the experience with a partner. The main thing when using an anal sex toy for the first time is to just RELAX!
Start off by taking a few deep breaths and getting in a comfortable position. Normally lying on your back with your legs spread or getting on your knees allows for easier penetration. You may want to massage your anus and start off with a finger at first, before moving on to a toy. It's also extremely important to use plenty of lube. Make sure you put lube on all sides of the toy, as well as your opening. Take a deep breath and then slowly and gently start inserting. Go at your own pace and take as little or as much as you like. Remember, YOU are in charge of your pleasure and need to do what feels good for you.
Some great beginner sex toys include:
The Assifier: Plug your pucker with just the right size and shape! This anal sex toy is perfectly designed for the 1st time anal explorer – no bumps, no vibrations, no whopping size, and no worries! This anal plug is soft, flexible, and small enough to please and tease your backdoor! For more information, click here.
The Colt Anal Trainer Kit: Never be without the perfect size butt plug again! These Colt Butt Plugs begin with a modest size girth of only 1 inch on the small one and grows to 2 inches in the large. Slowly build up your insertion tolerance with this 3 level kit or simply add variety to your backdoor pleasure regimen. For more information, click here.
Blue Dolphin Vibe: Bathtime was never this fun! Made of lapis blue jelly, this slim waterproof 6" long and 1" wide vibrator will turn your bathtub or pool into a sensual sanctuary! For more information, click here.
X 10 Anal Beads: Here's the perfectly sized butt tantalizer to awaken your anal pleasures! These anal beads, made of pliable yet firm 100% silicone, are perfectly angled to apply delicious pressure to your sexually sensitive prostate. Just as you're pleasuring your partner's eager ass, at the moment of climax, pull this baby out of your own ass for a body shivering climax you can enjoy again and again! The perfect size anal beads for top men or beginner bottoms! For more information, click here.
Colt Multi-Speed Power Bullet: The COLT Power Pack Bullet is both ergonomic and economic! Grab the EZ grip power pack in one hand and pop the bullet in your soon-to-be-happy hole. For more information, click here.
| | |
| --- | --- |
| | |