Product Description
Our product tester told us: "It will Rock Your World!"
Powerful, Hands-Free Prostate Pleasuring!
Medical Grade Silicone
"The Double P Spot" Pleasurer
Dual Action Prostate & Perineum Stimulation
Unique Easy To Use Design - just sit & rock - Hands Free!
Stimulating Nubs
Powerful Push Button Vibrating Bullet
Intense Ejaculations!
This totally unique, high quality stimulation device will bring you a life time of erotic pleasuring! Made of medical grade silicone, it's designed to stimulate both your prostate gland and perineum. Simply slide it into place using plenty of water-based lube following the easy instructional diagram printed on the packaging. Then push the button controller on the powerful vibrating bullet to send shivers of sensations through your sexually sensitive nether regions. You can either layback and enjoy the erotic vibrations or sit and rock yourself to a hands-free explosive climax! Guaranteed to become your most-loved favorite sex toy! (Uses 1 N battery - included)
more...
Product Details
Best Used For:
Prostate Stimulation
Experience Level:
Intermediate
Function:
Anal Penetration, Anal stimulator, Prostate Stimulation, Vibrates
Speed Control:
Push Button
Extra savings when you buy this item and more!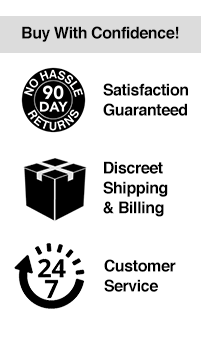 Product Reviews
Most Helpful
Most Recent
Highest Rated
Lowest Rated
BEST Toy I've ever owned!
Submitted 7/9/2007
7/9/2007
This thing is intense! The little battery powered bullet is very powerful - it vibrates the entire device so when you insert it (use LOTS of lube) and the tip touches your prostate, the sensations are delirious! You can push it against your prostate with your hand but I prefer to sit and rock on just like it says. I felt a climax slowing building inside me. It kept building and building until I finally reached sweet release! But the GREAT thing was that the ejaculations kept coming and coming! I've never felt orgasmic pleasure for that long a period At one point I actually thought I was going to cum forever! Needless to say, this is my very favorite toy. I highly recommend it!
ahhh, this is not just for gays!
Submitted 2/23/2008
2/23/2008
dear adam, guess what,... all men have prostates. some of us straight guys have learned that (c'mon guys, you've all pushed a finger in right as you nutt) there is something up in there that gives you that tingle. well my lady knows that my orgasm intensity is as important as hers, and that it's possible to improve the male 'o' as much as it is the lady's! so she bought this thing for me. we had a real laugh trying to 'get it in' but once she got it in me, i got stone hard. she climbed on me, and when she slid on to my cock and put pressure on my body and against this toy, i thought i was in heaven. pleasure shot from deep inside me to every nerve ending in my body. her level of 'heat' from seeing me so hot mad her cum like never before,.. and when the tip of that thing hit my sweet spot, i came like two times as long and as hard as ever. it's not for everyday. but when you are super horny and you want to take it to the next level... this is IT! you need to put this thing in a section for just GUYS period. we all have an ass and a prostate!!
tandem riders!!!
Submitted 10/14/2007
10/14/2007
my lover recently purchased a pair of rude boys so we could ride them together.it is such a turn on to watch each other ride them until we both erupt with explosive orgasms.we both agree these are the very best vibrators we have experienced.
For real bottoms only
Submitted 11/16/2007
11/16/2007
Maybe I was asking for trouble, but I'm a top looking to become vers and I thought this would be a nice way to get accustomed to anal play, seeing how it is supposed to directly stimulate the prostate/perineum. Well the shape is not one-size-fits all. It did not fit like the diagram at all, "rocking" on it hurt, and the vibrations did nothing for me. Apparently this is a bottom's dream toy but top/vers beware. I will say that it is a very sexy looking toy and it is sturdy and flexible--waterproof too. Worth $80? Depends on the person.
Can cause pemanent damage
Submitted 6/18/2007
6/18/2007
This toy can cause pemanant dammage to your prostate. Putting pressure on your perenium is very dangerous and can cause pemanent damage to the prostate and testicles. Sure, It feels great but it is horrible for your heath. DO NOT USE!
Disappointed
Submitted 2/16/2008
2/16/2008
I "saved up" money to buy this. I thought it would be a nice treat for myself. I tried to use it once and gave up. I could not get it inserted very deep, due to the shape and its total lack of flexibility. Once I got it in (as far as I could) it was impossible to keep it inside. The vibrations on the perinium was also a big zero. (I am a versatile bottom and my boyfried is 7-1/2 x 6. As you can see, I can handle big things!) A much better product is the Aneros products. They are expensive, too, but, they do everything (and more) than advertised. Nexus (UK) also has a product that is supposed to be better than the Aneros but I haven't tried it yet. It will be the next "toy" purchase.
awesome toy
Submitted 8/28/2008
8/28/2008
a must have toy. aid in giving the strongest orgasm ever. comfortable fit with amazing vibrations- and the perfect prostate stimulation. my husband and i both love it!
wow
Submitted 10/12/2007
10/12/2007
All I can say is WOW the best toy ever, shot such a load it was the best...
maybe I am doing it wrong.
Submitted 10/19/2007
10/19/2007
I don't know how I could be doing it wrong considering there is a diagram, lol. Sorry, but it did not do much for me.
poor product
Submitted 11/12/2007
11/12/2007
this rudeboy is the dullest sex toy ive ever used. it did squat for me. waste of 80 bucks