Colt Waterproof Anal-T
Item #4040

Buy together & save
Extra savings when buying these items together.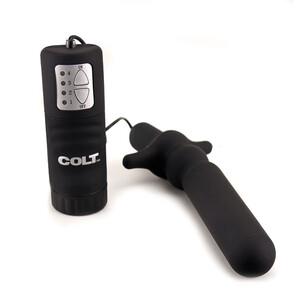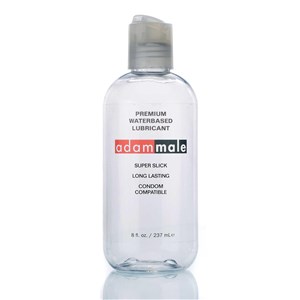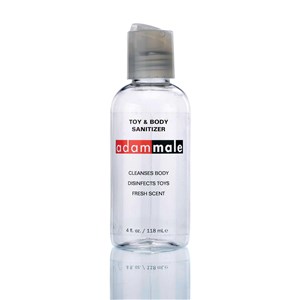 Buying together saves you:
4.00
Total =
Delight your derriere!
Your heinie will thank you when you insert this uniquely angled anal toy that packs a powerful punch! The 5" long shaft is coated in velvety soft rubber for smooth penetrations. Multiple contours create multiple sensations. A safety T-base keeps things securely in place and makes for easy removal. 4 mind-bending speeds of vibrating pleasure will leave your backdoor quaking. Uses 2 AA batteries (sold separately.)
Best Used For
Prostate Stimulation
Experience Level
Intermediate
Function
Remote control, Vibrates, Waterproof
Most Helpful
Newest
Highest Rated
Lowest Rated
Versatile, Used Often!
8/25/2007
I think this is an excellent toy for novices and experts alike. It's just the right size to explore and warm up to prostate pleasures. Waterproof is another great feature -- take it in the tub, the shower, the pool, wherever. Don't be afraid, I've had it under water for hours and it just keeps humming! The four power settings are great for helping keep you on the edge for hours. It's also been a fun addition to my bondage equipment. Being restrained, blindfolded, and plugged where your play partner can control your pleasure -- it is ecstasy!
This is one amazing product! I've been a bottom for years and when I'm horned up and no one is around I can have a very intense orgasm with this small $20 investment. A totally different sensation with each vibration. You won't be sorry you bought one!
Falls out on the job
5/10/2007
This is one little tiger and will give you a good prostate milking. But, I had trouble with it falling out. Easy to clean and easy to get in. Good for the beginner. Needs more attention at the hole grip.
Not Powerful Enough
4/17/2008
I like it but I just wish the vibrations were a bit more intense. I also had the same problem with it not staying in. A little thicker and harder vibration and I'd never leave the house!
Not everything i wated.
1/9/2007
For me, the shaft was too long and I couldnt get the entire thing in at that angle. I like this toy but the shaft should be a little shorter. Good for beginners.
Good idea, bad product
7/28/2011
This is a good idea, however the anal-t does not vibrate enough to do much at all. The small colt bullet has much more power then this does. Cannot recommend at all.
Good vibrations but agree on the wires
10/23/2013
I found this product to be very firm, not a jelly as I had thought when purchased on amazon. It took some getting used to. I bought this back sometime in 2008 or 2009, and the wires severed earlier this year. No more vibrations. Those are the negatives. Before then though, wow. Very nice and compact to take on a trip. Powerful without making too much noise. Waterproof as had been mentioned. The handle created a lot of pressure when sat on at an angle in a chair. Buy one and you will see what I mean. Hits the spot. Pretty potent. Worth the $25 I paid originally? You bet.
great toy for those times you need it
5/21/2012
what a way to celebrate masterbation month by getting this handy helper ,I tried it out and it did the trick thank you colt for making a great product
This little thing arrived today and I was blown away. Used it as soon as possible. Nice size and great vibrations. You get a great product for a great price
Good but breaks easily
7/4/2013
Works great but wires disconnect easily and that is the end!