Pulse III Solo
Item #8478

Product Description
The Most Powerful Male Stimulator Ever Created!
Experience more powerful and prolonged orgasms with this revolutionary male sex toy. By using specific stimulation, men can enjoy with or without an erect penis!
Multi-award winning toy
Can be used with an erect or flaccid penis
Stimulates the frenulum for powerful orgasms
Strong vibrations feel so good
6 pre-set vibration modes
9 adjustable frequencies
Measures 7.75" x 5.75"
State of the art magnetic charging
Set of flexible wings wrap around your shaft
Can be used like a traditional stroker
Ridged for added stimulation
Made of premium silicone
Waterproof
Developed using the latest medical technology, the Pulse III uses vibration, specifically oscillations, to stimulate the frenulum for more powerful and prolonged orgasms.
Simply insert your penis (flaccid or erect) into the Pulse and make sure your frenulum is pressed against the pulse plate. As your erection grows, the wings will expand for a snug fit. Then choose from 6 pre-set vibration modes and 9 adjustable frequencies to find the magic combination. There's even a turbo function. Just press and hold the + button and go straight to maximum power.
Use with lubricant and stroke yourself like a traditional masturbator, or use without lube for a completely unique sensation.
The Pulse III Solo is compatible with all water-based lubricants and clean up is easy. Just wash with mild soap and water, or use a sex toy cleaner. Allow to completely dry, and then store away from your other sex toys until you're ready for your next adventure.
more...
Product Details
Function:
Masturbation, Waterproof
Extra savings when you buy this item and more!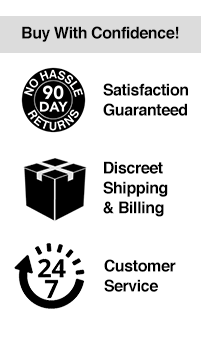 Product Reviews
Most Helpful
Most Recent
Highest Rated
Lowest Rated
Verified Purchase
Best product I have ever bought!!
Submitted 11/26/2017
11/26/2017
When it said you can use it hard or soft, they were not kidding!! OMG the best feeling ever. Used it in the shower with soap, with lube and dry. Anyway I use it feels fantastic. Wish I had bought a long time ago!! I was having a hard time busting my nut but not with this, happens everytime!
Verified Purchase
Amazing toy, you should try it!
Submitted 7/28/2017
7/28/2017
When I first look at this, I was like this is probably won't going to satisfy me. But when I saw other reviews form experience people who used this toy, I was like might as well give it a try. When I first got my pulse 3 solo, it was defected. I was disappointed because I waited so long to try it so I told adammale's customer service about my issue and they immediately solve the issue by giving me a brand new one. So when I got the new one(which was today), I charged that baby up and tried it when it was fully charged. It felt weird at first, since it was my first time having a toy that vibrates for my banana. Took me awhile to cum but when I came and the vibration kept going, I cum$hot everywhere on my shirt and it was the best feeling I ever had. Thank you so much for this wonderful toy. It is worth it so try it!
Verified Purchase
OH YEAH
Submitted 8/5/2017
8/5/2017
left it on for a half hour after.......................cause it felt / so good.
Verified Purchase
Alone time.
Submitted 8/10/2017
8/10/2017
Flying solo is way more fun with this.
Verified Purchase
A Product of Quality
Submitted 2/18/2018
2/18/2018
The Pulse III is an excellent sex toy. It is unique in a hat it is a vibrator for men. It comes nicely packaged and you can tell immediately that is a well designed, well manufactured product. It offers a variety of pulses and intensities and is definitely an item you want to add to your collection of toys. Did I mention it is waterproof and easy to clean? I won't use it all the time, but for a serious masturbator like myself, it offers a hands free, unique experience. It will be your friend when your other buds aren't around and you want a change from your own hand!
Verified Purchase
Every man must have one!!!
Submitted 4/22/2018
4/22/2018
I was on the fence buying the Pulse II ever since I saw many reviews for it. Using a vibrating object on my junk is nothing new to me, but the reviews were "too good to be true". Then the Pulse III came out and it had even better reviews. Well, they're true! Slipped this bad boy on and from the first buzz, I was in complete ecstasy. Then the turbo (activated by holding the (+) button for a couple of seconds took me even further and over the edge. I used my husband's birthday as an excuse to buy it, and when I used it on him, he went insane with pleasure! The orgasms are different in the very best way possible and happen very quickly. It's also great for edging. My only "bad" comment is that it's louder than I thought, so not the best for sneaking in a quick one in the middle of the night. I travel a lot for work, so I had to buy another one for when I'm gone for the husband to enjoy his alone time. BUY IT NOW!!!
Verified Purchase
A pleasure but
Submitted 7/27/2017
7/27/2017
Very pleasing sensation, but does not produce the monumental orgasms promised, at least not solo.
Verified Purchase
I recommend the Pulse
Submitted 9/1/2017
9/1/2017
The pulse feels great. Gets me hard and gets me off quickly
Verified Purchase
Look Ma No Hands!
Submitted 7/26/2018
7/26/2018
This Pulse lll Solo is far superior to the original one I bought a year or so ago. Heftier in design and really has some great pre-programed vibration settings. Hands free, ball busting, explosion each time I use it. Seriously!
Verified Purchase
Meh
Submitted 9/1/2018
9/1/2018
I was expecting a lot out of this for the price. I was disappointed. Any flesh jack with a Cock ring runs circles around this thing. Also, the speed adjustment seems to go on the fritz half the time I use it and I've had it less than a month.