Fat Boy Penis Sheath
Item #6961

Product Description
Add Over An Inch of Girth to Your Erection!
This unique penis sleeve will deliver truly expansive new sex play for you and your partner!
Proprietary material SiliaSkin, a mixture of Silicone and TPR, creates a super soft material that cradles your erection. Nubs and ribs lining the interior provide even more stimulation. Simply slide this semi-clear sheath over your erect or semi-erect penis. Stroke away until full erection is achieved. Then pull your balls through the collar at the base of the sheath. Now your balls get a tug with every stroke you make plus the sheath stays put no matter how vigorous the sex! Couples love to use this for anal sex - it provides a full extra inch of girth to the penis for the bottom boys anal delight! Designed to be used with plenty of water based lube!
more...
Product Details
Experience Level:
Beginner
Function:
Erection Enhancement, Masturbation
Material:
Silicone, TPE/TPR
Extra savings when you buy this item and more!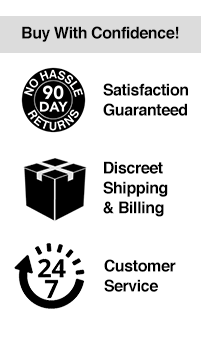 Product Reviews
Most Helpful
Most Recent
Highest Rated
Lowest Rated
GREAT!!!!
Submitted 8/11/2012
8/11/2012
This is my favorite toy! Trust me I have many toys! This toy is like having another man in the bedroom. I love adding this FAT BOY into the fun when every I want some spice! The best part of this is toy is that we can use it solo as a masturbators or together as sleeve/extender! The proprietary material SiliaSkin is amazing, noting like it AMAZING! It really adds girth and still has unbelieveable sensation to both the bottom and top! This is a MUST HAVE toy. Very easy to clean and very comfortable. I found an artile about this toy online, and I just had to have it. If you are looking for something to spice up your sex life this FAT BOY is it. After writing this review I really need some FAT BOY in my life right now. If I could have rated this a 6-star, I would have. HANDS DOWN THE BEST TOY!!!!
Yep!
Submitted 5/15/2015
5/15/2015
It can be a bit noisy. Not that I care anymore, but trying to quietly rub one out with this sleeve, so that the roomies won't know what you're doing is out of the question, but it'll definitely get the job done!
insta:dannythehairstylist
Verified Purchase
I would buy it again, with some small changes
Submitted 11/6/2017
11/6/2017
I didn't expect this sex toy to be so big, but it was okay I guess. I tried it and it felt amazing, the texture feels amazing and honestly, I think it is better than the fleshjacks. It is so easy to clean inside and out of it while the fleshjacks, it is extremely hard to clean the fleshjack because you cant turn it inside out for the fleshjack unlike this product. Plus it is lightweight so that is why I think it is better than fleshjacks since you have to carry the case for the fleshjack for it to work properly. Anyway, texture of the toys is amazing, I wish for a little change. I want the length to be a little smaller, because my banana is 7 inches and the toy is 8.5 inch, with all that extra space on the top, I wish it wouldve got rid of a little length so my tip can keep hitting it(which I like the sensation makes it amazing). Another small change is the hole for the ballsack. I literally tried to stretch it as easy and not hard as I can for my balls to fit but it didnt work so I wish that hole wasnt there. The last small change I would change to it is if there was anyway the sound can be lowered down. It is pretty loud and you cant really find a way to make it not sound loud. Anyway, amazing toy! Hopefully you guys make this sex toy with the version I am wanting haha! Would 100% buy it.
Verified Purchase
Good product.
Submitted 5/31/2018
5/31/2018
Felt great on my 7.5 inches. Lover enjoyed better than any previous toy. Clean up easy
Verified Purchase
Too big!
Submitted 10/27/2018
10/27/2018
Too large and heavy. Not comfortable.