Cobra Libre Head Stimulator
Cobra Libre Head Stimulator
Item #7202

Product Description
A Stimulator At The "Head" Of It's Class!
This sporty, ergonomically designed toy promises easy handling and modern pleasure. When you place your penis into the stimulator, the smooth, soft silicone sleeve hugs your tip closely and gives you thrilling stimulations. The innovative and stylish control elements easily adjust the two independent motors, offering a range of vibration combinations never before seen. The different patterns create pulsing vibrations just underneath the sensitive penis glans for mind-blowing, on-the-spot stimulation. A blinking light lets you monitor the vibration settings so you can easily remember your favorites.
Effectively stimulates the most sensitive part of the penis - the glans
Rechargeable - lasts for one hour on a single charge
100% waterproof
Two powerful, quiet motors for unique vibration patterns
German made motors each have 8 modes for countless vibration combinations
Intuitive control with one touch buttons
Easy to clean with warm soapy water or sex toy cleaner
Sleeve made from super soft and velvety silicone
Sleeve measures 3 inches long by 2 inches wide
The entire stimulator measures 5.5 inches long by 2.25 inches wide
A built-in ridge massages the bottom of your tip and shaft.
Body made from high quality, durable plastic
Battery charger and instruction booklet are included
The toy features a separate on and off button and then two more - one for each of the motor. Just press the button to cycle through the different vibration options.. Thanks to the CLICK 'N' CHARGE recharge technology, pit stops are short and efficient.
Important note: Before using your Cobra Libre Head Stimulator for the first time make sure it is fully charged. Charging can take up to 12 hours!
more...
Product Details
Experience Level:
Beginner
Extra savings when you buy this item and more!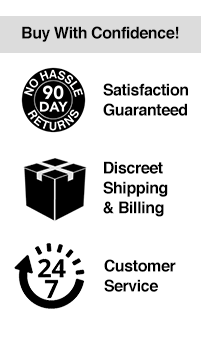 Product Reviews
Most Helpful
Most Recent
Highest Rated
Lowest Rated
Loads and loads, and loads and loads of fun.
Submitted 8/15/2014
8/15/2014
When I first saw this item I was skeptical, and then when I saw the price tag on that little puppy, I was vehemently against purchasing that toy. Thankfully it was during one of Adammale's 50% off sale, and I took a gamble. Boy did it pay off. I have never had a climax quite like I did using this toy for the first time. It was embarrassingly short lived, I just couldn't last very long with it on high speed vibration. I used it several more times that day, and I even take it to work with me sometimes. (Yes, I am aware I have a problem.) Bottom line is that the toy is well worth the money, and with adjustable speeds you can easily enjoy yourself for as long or as short as you want. The only thing about the Cobra Libre that I don't like is that sometimes it's hard to turn off post climax and so I get some post climax stimulation and we all know how sensitive it is after that! Also, it is really easy to clean since the toy is water proof. Hands down the best toy I've ever owned.
German Engineering!
Submitted 8/26/2014
8/26/2014
Singularly amazing device which has enough variation to satisfy a college swim team. This thing is built like a Mercedes. My only wish is to have it a little deeper, but it more than covers the job. Two motors create enough movement to keep me vibrating for an extra hour.
Only picked 4 stars because I haven't rec'd it yet
Submitted 4/3/2015
4/3/2015
However - Once I receive it - I will definately come back and re-enter my review as per all the other reviews that I have read, I suspect it will be a 5-star performer. (Same goes for the lube below - I have received it but am waiting to use it on the Cobra Libre Head Stimulator once I get it.)