Sapphire Magnum Penis Ring
Sapphire Magnum Penis Ring
Item #5906

Product Description
Dual Penis Enhancer Keeps You Harder, Longer!
The Sapphire Magnum penis ring is a dual male enhancer that works at the base of your penis and around your balls to get you hard and keep you harder for a longer time. The barrel-shaped fits around the base of your erection to restrict blood flow for a stronger, harder erection, while the nubbed ring fits around your scrotum for added performance. The raised nubs of this sex toy provide extra stimulation for your partner with every thrust of your rock-hard shaft! The Sapphire Magnum penis ring is made of translucent sapphire-blue jelly that's super-stretchy for a comfortable fit for almost any man.
more...
Product Details
Best Used For:
Erection enhancement
Brand:
California Exotics
Experience Level:
Beginner
Function:
Battery free, Erection Enhancement, Flexible, Prolonging Pleasure, Stretchy
Extra savings when you buy this item and more!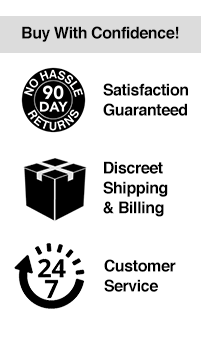 Product Reviews
Most Helpful
Most Recent
Highest Rated
Lowest Rated
Freakin Hard
Submitted 10/1/2013
10/1/2013
WOW, this is the easiest to use and the best i have tried. It made me super hard, and lasted as long as I wanted. It was easy to put on and use, and even impressed me how hard I could get and stay!
Verified Purchase
You Won't Regret this Purchase!
Submitted 2/11/2018
2/11/2018
This is an easy to use, comfortable, once size fits all ring. I've tried others but couldn't find one that didn't cause pain. I typically bottom but could take on the world wearing this. I am harder, more supported, and have experience with it. Do yourself (or your bf) a favor and buy it!
Verified Purchase
Nice
Submitted 3/31/2018
3/31/2018
Kind of tight but feels good once it is on. You need to shave & to use lube.
Wow
Submitted 3/21/2015
3/21/2015
Im so new to tgis but i had so much fun with it. I love how they always have discounts for everything you order. Hahha keep up the good work guys.