Pleasure Skin Realistic Dong
Pleasure Skin Realistic Dong
Item #2418

Product Description
Heart Stoppingly Realistic
Now there's no reason not to own your own lifelike dong! From his sensually ridged head and rippling veins to his big balls, this 8-incher feels and fills so much like the REAL THING. 2" wide, suction cup base for hands-free fun.
more...
Product Details
Best Used For:
Anal Sex Play
Experience Level:
Advanced
Function:
Anal Penetration, Anal stimulator, Battery free, Suction-cup base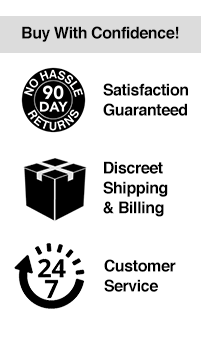 Product Reviews
Most Helpful
Most Recent
Highest Rated
Lowest Rated
One Awesome Cock!
Submitted 8/10/2011
8/10/2011
Well, this is my first time with anything even close to this big. This thing is almost 8 inches long, and pretty wide around. The shaft is nice and veiny, and also nearly perfect in mimicing an actual erect penis. The head is very nice, just the right amount of give. Just like a real cock, again. The head is slightly squishy. It took me about 20 minutes of priming the pump and backing into it in order for me to finally break through the barrier. You guys know what I mean...It hurts, it hurts, it hurts, then all of a sudden... OMG! Once I hit the Oh My God phase, I f*cked myself hard and fast... and came almost as fast. This hard cock up my ass was WONDERFUL. Now, if I could just try the real thing!
Very Realistic but WAY TOO WIDE!!!
Submitted 5/27/2007
5/27/2007
This is a great toy, but it needs to come in a smaller circumference. At 6" around, it can be painful even for the best bottoms! If it were a REAL dick, it would have more give. This model would be perfect if there was a thinner option, around 5" around. The length is fine! Maybe they could offer a SMALL/MEDIUM/LARGE option at 4"/5"/6" in circumference.
That good dick :)
Submitted 5/3/2011
5/3/2011
I just love this cock. I get so hard just thinking about the pounding that its about to give my ass. The suction cup is great and with a little patience I can take it balls deep. It is a big guy but the suction cup makes it easy to ride and it feels soooo good. I like to soak it in warm water first to make it feel even better. Im gonna go give myself a good pounding before my girlfriend gets home, if she only knew......
Too Thick
Submitted 3/11/2006
3/11/2006
The description of this thing doesn't do justice to how THICK / WIDE it is. I don't consider this a good thing since I wasn't in the market for such a beer bottle... not sure I can even use it without injury. The feel is nice - not as realistic feeling as some (i.e. Cyberskin) but the tradeoff seems to be the ones with the most realistic feel are not "erect" enough - they are often too floppy. This one has some "give" to it but seems to have enough starch in it to do the job. It has an odd high-gloss shine to it
Great!
Submitted 5/18/2006
5/18/2006
This dildo feels really good. It's a bit painful at first when you start, just because it's so thick, but once you get going, you'll have the best session ever.
My Favorite
Submitted 5/28/2007
5/28/2007
I wasn't sure about this dong when i first ordered it, but WOW was i surprised! Usually such a low priced toy comes with drawbacks like bad suction cup pr poor feel, but this one is incredible! It is hands down my favorite toy. I use it during every play sesion. Even when i use it to prep for larger insertions, i always cum back to it. I love it, and you will too.
"WIDE RIDER"
Submitted 11/9/2007
11/9/2007
EVERYBODY'S IN THE PENIS BUSINESS THESE DAZE !! But I discovered this 'middle of the road' " LOOKING ".... Stiffy has a lot more gravity to it than you might guess. It is strong and has good 'bounce to it....it's W-I-D-E..it will stretch you wide if you mount it...that's the whole idea...if you can handle it.... Affordable as well....(money wise) good luck with this big boy.......
YES!
Submitted 11/17/2007
11/17/2007
I must say that this dildo is amazing! It turned me gay, thats how good it is!
WOW!!!!
Submitted 4/8/2008
4/8/2008
I always thought that companies wrote their own reviews on sites like this just to make a product look better than it is...I got this product thinking it was going to be 7", but it turned out to be 8" according to the box. and it is THICK AS SHIT...I dont know if i can even take it, guess its going to take alot of practice to get it in without it hurting
nice
Submitted 10/18/2004
10/18/2004
good