Crystal Pleaser
Item #7916

Product Description
Dual Ended Dildo Means Double The Pleasure!
This smooth, glass dildo let's you use either end for incredible orgasms.
Dual ended for twice the fun
Features both a tapered and bulbous end
Pleasure bump in shaft for added sensations
Perfect for anal stimulation
Heat it up or cool it down for fun temperature play
Made from hygienic and shatter resistant glass
Compatible with all types of lube
Measures 7.5" long
Shaft goes from 1" to 1.5" wide
Hypoallergenic so it's perfect for sensitive or allergy prone skin
Non-porous and easy to clean
Hand blown for beauty and durability
You'll love this two in one glass dildo.
One end has a slender 1" tapered tip that allows for smooth penetration and incredible stimulation.
The other end features a 1.5" wide bulbous tip. Once inserted squeeze those glutes for mind-blowing sensations.
The shaft features a bump in the middle that not only increases pleasure, it also ensures the toy doesn't go in too far.
Made of hypoallergenic, non-porous, hand blown, and shatter resistant glass, the Crystal Teaser is perfect for those with allergies or sensitive skin. You can even experiment with temperature play by heating and cooling your teaser.
The Crystal Teaser is compatible with all types of sex lubes and clean up is easy. Just wash with soap and water or use a toy cleaner. You can even boil it in a pot of water or throw it in the dishwasher. Store when completely dry.
more...
Product Details
Experience Level:
Beginner
Function:
Anal Penetration
Extra savings when you buy this item and more!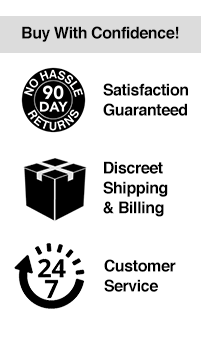 Product Reviews
Most Helpful
Most Recent
Highest Rated
Lowest Rated
Verified Purchase
Nice shape and size
Submitted 7/6/2017
7/6/2017
did not have much expectations about this product but it does a great job. The glass makes it easy to get in and to clean it. It is a good size so you can play only with the first part or keep going for the next part which is wider. I read that some people say that the glass makes it hard to grab it but I have not have that problem. Great product.
Verified Purchase
Keep this one next to the bed
Submitted 2/11/2018
2/11/2018
I love this product. Its easy to clean, works with any lube, and its incredibly fun. The larger bulbous part hits the right spot and led to climax without any other stimulation. Your prostate will thank you for this purchase.
Verified Purchase
Great product, but oddly shaped
Submitted 10/28/2018
10/28/2018
This product is odd to me because it's glass and its shape. Overall though it feels good. It gives me the idea of giant anal beads.
Verified Purchase
The best product I've purchased so far.
Submitted 8/25/2018
8/25/2018
I like how simple it is to use, and cleaning it is a snap.