The Tube Love Glove
Item #4398

Product Description
Slide Into This Soft, Tight Lover ANYTIME!
Bust a big nut and get total release! 5 1/2 super-stretchy inches of UR3 material does the trick! Unlike any real-life lover, the ribbed shaft of the Love Glove is on call 24-7 to meet your needs! It hugs your erection and cleans up in a snap.
One of the softest masturbators on the market.
more...
Product Details
Best Used For:
Masturbation
Function:
Battery free, Masturbation, Stretchy, Waterproof
Extra savings when you buy this item and more!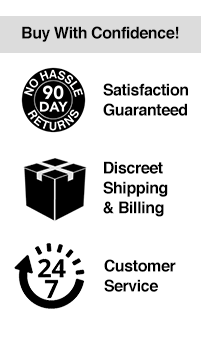 Product Reviews
Most Helpful
Most Recent
Highest Rated
Lowest Rated
amazing!
Submitted 10/27/2007
10/27/2007
I'm 19 and 8" uncut, and pretty thick. The first time I used this, I fell in love with it! My bf used to and said, "no offense, if I had found this before you, I could stay single forever!" Mine didn't tear, and it works great for two guys to fuck it from both ends, too bad they don't make a longer one for that though. Just squirt in a little lube, and you're good to go. Honestly, I just used to and got myself to orgasm and shoooooot far 5 times in under 10mins. So, buy this and you won't regret it. My 3 str8 roommates want me to get them each one, just from hearing my rave reviews!
Soft and nice
Submitted 8/11/2007
8/11/2007
This is great! It stretches and works great between a matress and boxspring! Easy to clean too and works great with 2 cocks in it!
Didn't last long...
Submitted 8/31/2007
8/31/2007
This thing felt great while it lasted. I stroked solo with it a couple of times and jacked my BF with it once. After the first time it developed a tear that got bigger each session. We stuck both of our cocks in it the final session and ripped it half way open. I'd love to brag was our "huge" cocks that tore it apart but in reality it was just poorly made. I'm going to try a fleshlight. I hope the hard plastic enclosure will hold it together longer.
It's really Great
Submitted 5/1/2008
5/1/2008
I first used it yesterday. It was like fireworks going off. I have a 6 1/2 in. this is the best masturbation toy ever.
Nice!!!!
Submitted 3/19/2010
3/19/2010
I like this masturbator! im 7 1/2 cut and it feels amazing!! My partner and I both use it. to bad its not longer tho..
Tube Mas
Submitted 7/8/2011
7/8/2011
This was my first using the TUBE & it felt great!! Eespecially the ribbed sensation felt awsome around my nob!!! Made me cum a load!!!
Amazing helper!
Submitted 12/11/2013
12/11/2013
Tired of your hand? Looking for something different? This little beauty is perfect. Ribbed interior gives a unique, fantastic sensation that sustained the pleasure and resulted in an enormous orgasm. Highly recommend it!
Verified Purchase
Awesome
Submitted 12/17/2017
12/17/2017
I love the softness of this product and the pleasure it gives me during masterbathing.
Verified Purchase
Hard to use not big enough around
Submitted 1/1/2018
1/1/2018
If your average sized it is not the product for you
Verified Purchase
My new, handy, best friend
Submitted 3/10/2018
3/10/2018
I love the feeling of it. The sensation is really great. If you use store bought, water based, lube, it's okay (like a 3.5/5), but if you buy a special lube used for toys like fleshlube, it's HEAVENLY!! The ribs on the inside feel amazing. Cleaning is a breeze. The pressure of it is great too. It's all around an amazing product. (P.S , DO NOT TURN IT INSIDE OUT! I read somewhere that sleeves like this feel better in reverse, and it doesn't feel like anything. Plus it almost tore my product. Stick to the way it is)